275 stranded passengers airlifted between J&K and Ladakh
Kargil, Feb 22, 2023: A total of 275 passengers were airlifted today in IL-76, AN-32 Airforce Planes as well as B-3 Helicopter between Jammu and Kashmir and Ladakh.
Due to the closure of the Srinagar-Kargil road and bad weather for the past few days the stranded passengers of Kargil at Jammu and Srinagar were unable to utilize the services of AN-32 Kargil Courier.
On the recommendation of the Civil Aviation Department Ladakh, the Indian Air Force provided the facility of IL-76 Aircraft which airlifted 193 passengers from Jammu to Leh, 57 passengers were airlifted in two sorties of AN-32 between Srinagar and Kargil, 10 passengers from Kargil to Jammu in one sorty of AN-32 besides 15 passengers between Kargil and Srinagar in B-3 Helicopter.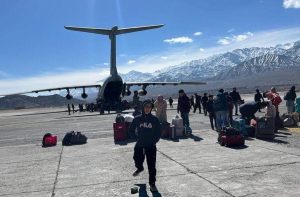 The flight operation was coordinated by Aaliya Fazal Beigh, Deputy Coordinator.
The passengers were assisted at the Airports by the Liaison Officers and Assistant Liaison Officers deputed at the respective locations of Jammu, Srinagar, Kargil and Leh.
The passengers expressed their gratitude to the Indian Air Force, Divisional Administration/Civil Aviation Department Ladakh and District Administration Kargil for facilitation of the airlift.