3-day mass plantation drive begins at Yak Breeding Farm Bodhkharbu
Kargil, May 17, 2023:
Animal Husbandry Department, Kargil in collaboration with Forest Department Kargil today started a mass plantation drive at Yak Breeding Farm (YBF) Bodhkarbu, Kargil.
Chief Animal Husbandry Officer Kargil, Dr Mohd Ismail, Manager CBF Kurbathnag, Dr Ashiq Hussain, Block Veterinary Officer Chiktan, Dr Mohd Ibrahim along with other doctors of the department, staff of Yak Breeding Farm, staff of Animal Husbandry Department Chiktan, Kargil, Range Officer and Forester of Forest Department Kargil participated in the plantation drive.
During the plantation drive, different varieties of tree saplings were planted. A total of around 1,000 tree saplings provided by the Forest Dept. Kargil will be planted at the farm.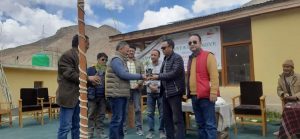 The plantation drive aims to bring maximum arable land currently in possession of the department under tree plantation and to make the environment clean and green.
On the occasion, the Chief Animal Husbandry Officer and the Range Officer emphasized on the importance of such drive in view of climate change.
The program ended with vote of thanks presented by Manager YBF Bodhlharbu to the officers and officials who took part in the drive.