Abass Ali
Editor
4 -Days training workshop held in Kargil
District Resource Unit of Samagra Shiksha, The Department of Education Kargil under the guidance and instruction Chief Education Officer Kargil
has successfully organised a 4 -Days training/workshop for School teaching staff of various govt.schools under Inclusive Education Component w.e.f 8th to 11th of September 2021 at DIET Chutuk.
Director, SE Ladakh Dr. Safdar Ali inaugurated the workshop .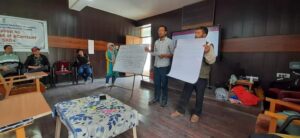 Experts/Resource Persons of the workshop brainstormed and discussed various important topics regarding Inclusive Education,Mental Health and Counseling, Importance of Physiotherapy for CWSN etc.