Second edition of state championship by Ladakh Handball Association starts in Kargil
KARGIL, OCTOBER 04, 2021: The opening ceremony of the Second State Handball  Championship 2021 was held at the University of Ladakh (UoL) Kargil campus by the Ladakh Handball Association today where both men and women handball teams participated.
In the opening ceremony, Director UoL Campus Kargil Kaneez Fatima was the chief guest besides officials from Leh and Kargil districts were also present on the occasion.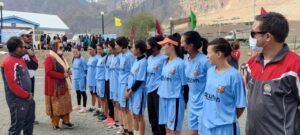 A total of 12 men and 6 women teams are participating in the tournament.
In the men's category, a match was played between Minjee Handball Club and United Kargil Minjee which was won by Minjee Handball Club by 3 goals while in the women's category,  Evin Handball Club defeated K C Kargil by a margin of 5 goals to register their win in the opening match.
Meanwhile, the officials informed on the occasion that the final matches under the men's and women's category will be held at Khree Sultan Cho Sports Stadium Biamathang tomorrow at 4:30 PM.