EC Syed Abass takes stock of pace of progress on road construction works at Sankoo, Tai Suru
KARGIL, OCTOBER 07, 2021: Executive Councillor for Works and Information Aga  Syed Abbas Razvi took stock of the pace of progress achieved on various road construction works at Sankoo and Tai Suru blocks here today.
The EC was accompanied by the Councillor Parkachik Haji Ghulam Muhammad, Executive Engineer PMGSY Kargil Tsering Angchuk besides other concerned officers.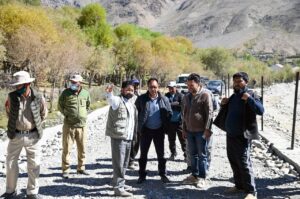 The EC visited Khawos village to review the status of ongoing works on the1x35 meter span steel-trussed bridge at NT Road. He also interacted with people of the village and discussed ways and means to connect the bridge to the NH-301 until it is completed and resumed for traffic, and further instructed the concerned officers to complete the bridge before the winter season.
The locals demanded to divert and divide the river water so that vehicles could pass through easily besides to install a temporary foot bridge for passage of pedestrians.
The EC instructed the officers concerned to take all requisite measures to ease the public to pass to other side of the river. He further assured to conduct a meeting with other concerned departments to discuss a feasible solution until the bridge is resumed for traffic.
Later, EC Syed Abass visited Taisuru where he took stock of progress of work on Imambara Lane Road.
The EC also convened a meeting of the concerned officers at Dak Bungalow Sankoo where he took stock of the progress of work on various roads in and around Sankoo Town.
Councillor Sankoo Aga Syed Ahmad Razvi, Executive Engineer PMGSY besides other concerned district and sub divisional officers officers attended the meeting.