KARGIL, APRIL 18, 2022: A 5-day Ayushman Bharat block-level Health Mela organized by Health Department Zanskar today started at Community Health Centre (CHC) Padum.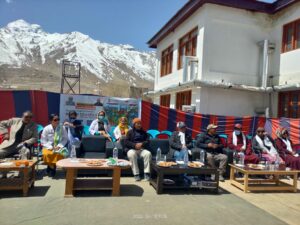 Officiating SDM Zanskar Tsering Nurbo was present as chief guest and inaugurated the ceremony. The block-level Health Mela opening ceremony was attended by Block Development Officer Zanskar, Chairperson Block Development Council Zanskar, Sarpanch, Panches, medical, paramedical staff, and public.
Health services like free diagnostics, ABHA (health ID), Ayushman Bharat Card, teleconsultation, screening for diabetes, hypertension, oral cancer, tuberculosis, cataract, yoga, meditation etc. were kept available for the general public for their benefit.
While welcoming the chief guest and other guests, Dr Arjun gave an introduction about the main objective of organizing of the Health Mela.
Dr Tsering Tashi highlighted the general public about Maternity Child Health and infant mortality in Zanskar subdivision.
Health-related skits were also played by the school children of Duzin Photang School Ufti and medical staff to aware the general public about general health care.
The officiating SDM appreciated Block Medical Officer Dr Angmoo and medical staff for organizing the program for the first time in the subdivision and hoped that such programs would be organized in the future also.