Dy Chairman convenes meeting to review BSNL network issues in Nubra region
Leh, Aug 25: Dy Chairman, LAHDC Leh, Tsering Angchuk, who's the elected Councillor from Diskit Constituency, convened a meeting today with the officials of BSNL to discuss several shortcomings regarding the BSNL network in the Nubra region. Executive Councillor for Forest/MA, Ghulam Mehdi was also present during the meeting.
General Manager, BSNL apprised the Dy Chairman of the status of ongoing network restoration works being carried out. He also informed regarding the status of laying new Optical Fiber Cable (OFCs) where the surveys have already been done in the Nubra region. Taking note of the status, Dy Chairman instructed the officials to expedite restoration work in all affected areas of the region.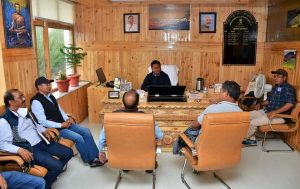 Furthermore, he also informed that all uncovered villages of the Nubra region would soon get 4G Network connectivity and expressed his gratitude to MP Ladakh for getting a large number of 4G mobile network connectivity sanctioned for the Union Territory of Ladakh.
The meeting was attended by DA NTP, Tashi Phuntsok; GM Kuldeep Kumar Singh; AGM Tsering Angchuk; SD Vivek Namdev, and SD Phuntsok Dorjay.