EC Tashi chairs reviews status of ongoing schemes
KARGIL, SEP 01, 2022: Executive Councilor for Tourism, Rural Development and Zanskar Affairs, LAHDC, Kargil Er Phunsok Tashi today chaired a review meeting to assess physical and financial status of ongoing schemes, such as State Sector, Capex, CSS, SDP, CCDA and any other existing schemes.
Project Officer Wage Employment/ACD Kargil Ghulam Mohammad, Executive Engineer REW, Block Development Officers of all Blocks, besides concerned Engineers of REW of all Blocks were present during the meeting.
During the meeting, threadbare discussions and deliberations were followed regarding the achievement under different sectors.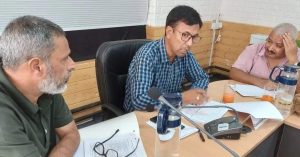 The EC RDD was informed that under District Capex, out of the released amount of Rs 14 cr, Rs 286.40 lakhs were expenditure, further under SDP sector, out of the released amount of Rs 5196.00 lakhs, Rs 448.66 lakhs was expenditure.
Under MNREGA 100,835 man-days were achieved and Rs 636.52 lakhs of amount was released. The EC was further informed that under State Sector out of released Rs 1781.73 lakhs Rs 274.56 lakhs were expenditure. Moreover under CCDA amount regarding various works have been expedited and tendering has been done.
EC Tashi said under the supervision of ACD Kargil, the department of Rural Development Kargil is doing good work and the departments' existence and work is visible across the district.
Tashi further called for stern coordination amongst all the concerned of the department and said strong coordination must happen between the executing agencies and the department.
The EC stressed achieving maximum expenditures in all sectors and also ensure quality works.
Earlier, the EC Tashi took a detailed assessment regarding various works undergoing in the department as such construction of Kuls, Multipurpose Hall, protection bund, public park, libraries, Solid Waste Management, pathways, circular roads, remodelling of water tanks and various other works.