Accounting Procedure training for newly recruited Panchayat functionaries of Ladakh commence
RDD Ladakh in collaboration with NIRD-Hyderabad organize residential training
Leh, Oct 26: A training programme in collaboration with RDD Ladakh for its first residential training in Ladakh on Accounting Procedures for the newly recruited Panchayat Account Assistants commenced today at Leh. The six-day training programme is being organised by the Rural Development and Panchayati Raj dept, Ladakh in collaboration with the National Institute of Rural Development and Panchayati Raj, Hyderabad (NIRDPR). The Centre for Internal Audit in Rural Development (CIARD) of the NIRDPR has deputed senior resource persons to Leh for the training. The six-day training programme will acquaint the new recruits with accounting and audit framework of PRIs, overview of schemes such as MGNREGS, NRLM, PMGSY, PMKSY, NSAP and the role of PRIs, concepts of accounting and bookkeeping, accounting standards, system of financial management, budget formulation, contract management, reconciliations, PFMS, procurement and GeM, inventory management, audit, e-office and tally, and soft skills etc. The training programme will have group discussions, hands-on exercises, exposure visits and also evaluation.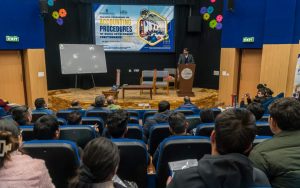 A team of five, Shashi Bhusan, Director, CIARD; Dr U Hemantha Kumar, Head, CIARD; G Naga Lakshmi, CIARD; P Ram Mohan Rao, Senior Accounts Officer (Retd); Shashi Rekha, Consultant, CIARD and Satish Nagendra will train the participants along with additional online trainers.
Commissioner /Secretary, Rural Development & Panchayati Raj, Ladakh, Saugat Biswas inaugurated the training programme in the presence of Director RDD & PR Tahir Hussain, ACD Leh, Sonam Nurboo, DPO Kargil, Padma Angmo, other senior functionaries of Rural Development Dept, Ladakh and the experts from NIRDPR.
Saugat Biswas said that this training is the beginning of a proactive collaboration with the NIRDPR Hyderabad and is a first when a group of experts from the premier institution of the country is undertaking residential training in Ladakh. Earlier, various elected representatives such as Sarpanches, NRLM self-help groups, village-level workers and a bunch of panchayat account assistants had undergone training at NIDPR Hyderabad.
Biswas urged the participants to take full advantage of the presence of the experts in Leh and attend the training with complete sincerity. With the devolution of funds both in the capital and the recurring side to the panchayats and for the efficient utilisation of centrally sponsored schemes funds the role of Panchayat Account Assistants will be very important in the days to come, he said. The training will be completed by all the newly recruited Panchayat Account Assistants of Leh and Kargil districts.