ADC Kargil attends PM National Apprenticeship Mela
Kargil, May 08, 2023: Additional Deputy Commissioner, Kargil, Ghulam Mohi-Din Wani today attended the Pradhan Mantri National Apprenticeship Mela (PMNAM) organized by ITI, Kargil in collaboration with NIELIT at ITI Campus, Kargil.
Superintendent ITI Kargil, Lead Bank Manager SBI, Chief Manager SBI Kargil, pass-outs of the ITI, regular students besides others were present during the event.
On the occasion, the ADC talked about the apprenticeship program and industrial trades that are instrumental in generating employment for unemployed youth.
He instructed the aspirants to benefit from the mela, fit themselves in a particular trade, and gain income while delivering service to mankind.
The ADC said skills are need of the hour in the age digitization and help in generating employment. He urged participants to acquire skill so that they can become job providers rather than job seekers.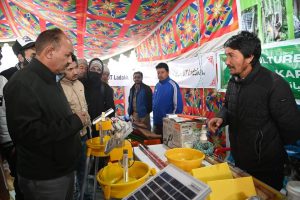 Candidates from 5th to 12th, Skill Training Certificate holders, ITI Diploma holders and graduates were eligible for the mela where many candidates participated.
On the occasion, the ADC felicitated Murtaza Ali of ITI, Kargil for achieving second position at UT Ladakh "Sustainable Campus Challenge".
To aware the aspirants, various departments like District Social Welfare, Handloom Department, Sheep Husbandry, PHE, JJM, Fisheries, Wildlife, Self Help Groups, National Hydro Power Corporation (NHPC), J&K Bank, HDFC Bank and ITI installed their stalls.
An expert from Skill India informed the candidates about the National Apprenticeship Mela, various industrial trades, employment opportunities and several govt. schemes in this regard.
Pertinently, the National Apprenticeship Mela with the theme "Naya Bharat, Naye Avsar, Nayi Samridhi" is a joint effort of the Ministry of Skill Development and Entrepreneurship and the Ministry of Micro, Small and Medium Enterprises which is taking place in more than 700 locations, 30 plus sector, for more than 500 trades.