ADC Kargil chairs meeting regarding formation of TB Forum
KARGIL, September 20, 2022: Additional Deputy Commissioner (ADC) Kargil Ghulam Mohi-Ud-Din Wani today chaired a meeting in his office chamber
regarding formation of TB Forum under National Tuberculosis Elimination Program (NTEP).
The meeting was attended by Chief Medical Officer Kargil, Dr Munawar Hussain Wazir DPO Padma Angmo, District Program Coordinator Syed Mohd, Senior Treatment Supervisor and five TB Champions.
During the meeting, discussions and deliberations were held over the status of TB in Kargil district and the treatment available in hospitals.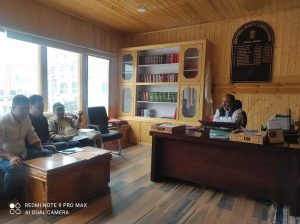 The ADC urged all officers and officials under NTEP program to work diligently to achieve all the targets and goals as per the National Strategic Plan (NSP) 2025 for the elimination of TB from before the given timeline.
He instructed to promote activities through mass awareness generation programmes and also make IEC material in local language to reach to larger audience.
At the meeting, Program Coordinator NTEP gave a presentation about all indicators under TB Score of NTEP and how to eliminate the disease.