ADC Kargil chairs meeting regarding smooth functioning of new district hospital Kurbathang
KARGIL, NOV 07, 2022:
Additional Deputy Commissioner, Kargil, Ghulam Mohi-ud-Din Wani today chaired a meeting in his office chamber regarding smooth functioning of the new district hospital at Kurbathang and to redress grievances of public regarding van services and other issues.
The meeting was attended by Assistant Commissioner Revenue, Kargil, Chief Medical Officer, Medical Superintendent District Hospital Kargil, Executive Engineer PDD, R&B, PHE and Mechanical Kargil, District Traffic Inspector Kargil and representatives from ARTO, SRTC and Van/Eeco Taxi Union Kargil.
The CMO Kargil informed the meeting about the current situation and issues regarding the new district hospital.
In the meeting, the ADC directed the AEE, Mechanical to ensure central heating is functional from 10 a.m. to 4 p.m. at the hospital and resolve the issues regarding heating of attendants in rest room/Sarai and hospital canteen.
He directed SRTC and Van/Eeco Association representatives to start the transport services from main market Kargil and from Baroo to Council Secretariat via hospital from November 08.
The ADC directed Inspector ARTO Kargil for the arrangements of Van and Bus services from Kargil Bazar/Baroo to District Hospital Khurbathnag Kargil for the patients/ attendants/staff.
Also rates were fixed, for Van/Eeco from main market/ Baroo to hospital Rs 20 per passenger while as from market/Baroo to Council Secretariat it was fixed as Rs 30 per passenger. While for Van/Eeco booking Rs 200 was fixed one way from main market/Baroo to Council Secretariat.
Similarly, for SRTC buses, the fare would be as per transport department approved rates. Also ARTO and DTI were instructed for the smooth functioning of transport service for the new district hospital.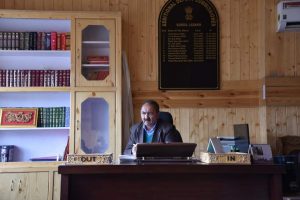 He also instructed the concerned officials for the availability of transport for patients and public. Further, they were directed to identify the location/stop for the new transport services for the public.
Manager SRTC, Kargil was instructed to start bus services from November 08 from main market to Karbathang Hospital daily at 9 a.m., 2 p.m. and 4 p.m.
The ADC instructed the Executive Engineer Electric Distribution Divsion Kargil to make necessary arrangements to provide uninterrupted electricity at the new district hospital.
The District Traffic Inspector was directed to regulate the smooth traffic and ensure fare rates for the new transport service from main market to the new district hospital and vice versa.
The ADC directed the concerned to keep the provision of Tanker Service by PHE in GNM School, canteen facility and at Sarai for attendants.
Medical Superintendent District Hospital Kargil was directed to make necessary arrangements of Jan Aashudi (Medicine) shop in the premises of hospital after following all formalities and expedite possible pharmacy license in order to open medicine shop at the new hospital and also ensure availability of 2 ambulances at old District Hospital, Kargil for shifting of patients to the Kurbathang during emergencies.
In view of short working season, the ADC directed Executive Engineer, R&B-II Kargil for minor repairing of GNM Ist floor (Saria) after consultation with CMO Kargil on emergency basis.
He also instructed Executive Officer, MC Kargil to deploy sweepers for sweeping the main premises of old District Hospital Kargil to old Trauma Center regularly.
The ADC said the existing emergency services at Old Hospital Kargil shall remain functional with required staff in place to be ensured by the Medical Superintendent and BMO Kargil as directed by Deputy Commissioner/CEO, LAHDC, Kargil dated: October 29, 2022.