ADC Kargil reviews preparedness for mock exercise for earthquake disaster
KARGIL, SEPTEMBER 02, 2022:
Additional Deputy Commissioner, Kargil, Ghulam Mohi-Ud-Din today chaired a meeting of district officers to review preparedness for UT Level mock exercise on earthquakes disaster.
The mock exercise for earthquake will be held in the district on September 08 in which different departments to prepare themselves for emergency disaster situations.
The District Disaster Management Authority with other departments will jointly act in the mock exercise in five places viz school, government office, residential area, hospital and industry/ bridge/ dam/ mall and market area.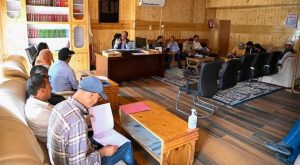 The mock exercise is aimed to evaluate warning systems, alert protocols, Emergency Operation Center functioning and communications, ability to build situation awareness and allocate resources, identification and aggregation of responders, ability to suitably select sites for Incident Response System (IRS) facilities and activate them, composition of Incident Response Team (IRT), response, search and rescue effort, evacuation/casualty evacuation, integration of all types of responders, hospitals cope with casualties, surge capacity, emergency, re-build, check disaster management reserves held by each Department, Emergency Support Function (ESF) form, inter-departmental teams/groups/task forces including for response, restoration and ability to receive assistance and aid through road and air.
The ADC instructed to circulate a task list assuming role to different departments. He further instructed the departments to act accordingly with the task list.
The meeting was a brainstorming session for the officers to act wisely and smartly in different disaster situations.