ADDC Leh chairs DLRC meeting for first quarter of 2022
Leh, Sept 14: On the direction of DC/Chairman, District Level Review Committee, Leh, Additional District Development Commissioner (ADDC), Leh, Sonam Nurboo chaired the District Level Review Committee (DLRC) and District Consultative Committee (DCC) meeting of Leh district for the first quarter ending in June 2022 at DC Conference Hall today.
Reviewing the performances of the banks, ADDC Leh, Sonam Nurboo exhorted that coordination and clear communication between the banks and the line departments is essential to achieve the allotted targets and enhance their respective achievements. He also instructed the concerned stakeholders to submit the Action Taken Report of the last DLRC meeting with clear observations and reasons for failed targets and achievements, if any.
It was informed that the percentage of Cash Deposit Ratio CDR in Leh district is 44% which increased by 6% as compared to quarter-end of March 2022 (38%) based on credit growth on quarter-to-quarter basis.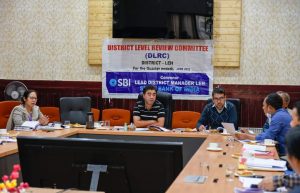 The meeting deliberated on the bank-wise performances under different sectors such as Priority and Non-Priority categorized further into sub-sectors. Under priority sector an amount of Rs 135.36 crore and under non-priority sector Rs 147.09 crore were disbursed till the quarter-end of June 2022.
The performances of banks under various Government Sponsored Schemes, including Pradhan Mantri Employment Generation Programme (PMEGP), Kisan Credit Card (KCC), MUDRA, Stand-Up India, PM SVANidhi, National Rural Livelihood Mission (NRLM), National Urban Livelihood Mission (NULM), Pradhan Mantri Formalization of Micro Enterprises (PMFME) and Social Security Schemes like Pradhan Mantri Jeevan Jyoti Bima Yojana (PMJJBY), Pradhan Mantri Suraksha Bima Yojana (PMSBY) and Atal Pension Yojana (APY) and Financial Literacy Initiatives were also discussed during the DLRC meeting.
Lead District Manager, Leh spoke about the expanding and deepening of digital ecosystem in Leh district and urged the banks to make concerted efforts for the same.
Chief Planning Officer, Leh; Lead District Manager, Leh; Deputy Director, Employment; Executive Officer, Municipal Committee Leh; Chief Horticulture Officer, Leh; Chief Animal Husbandry Officer, Leh; District Agriculture Officer, Leh; Project Manager, Urban Local Bodies and officials of various other departments and banks including, SBI, J&K, Axis, HDFC, Yes, JKGB, PNB, BOI, UBI and IDBI bank attended the meeting.