Alam Kushayi Alam e Hazrat Abass Alamdaar Took place in Kargil
Kargil, 05 August 2022:-Alam Kushayi, Alam e Hazrat Abass Alamdaar (a.s) held at Hawza Emliyah Isna Asharia Kargil under the Banner of Jamiat-ul-Ulama Isna Asharia Kargil JUIAK Ladakh in which thousands of people from different parts of Kargil participated.
The Alam e Hazrat Abass a.s reached Kargil after completing it's Pious Journey from Jamia Masjid Drass.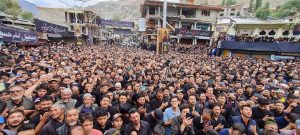 The Alam was given a tearful reception at Thasgam Drass at Imam Bargha Sofia Noorbakshia in which hundreds of Men and Women along with their wards reached and participated in the special Majlis.
In Kargil Alam Kushayi took place after the Friday prayer during which the Holy Flag from the Holy Shrine of Hazrat Abass was Hoisted by Vice President JUIAK Ladakh Hojjatul Islam Sheikh Ghulam Ali Mufeedi, General Secretary Hojjatul Islam Sheikh Ibrahim Khalili, Former Vice President Hojjatul Islam Syed Mohammad Zia Uddin Mossavi and other members of the executive body and religious scholars.