Ambulances older than 15 years to be scrapped; All schools to be equipped with weight & height measuring equipments; PS Dr. Kotwal
Leh, Jan 18: Principal/Secretary, Health and Medical Education, Dr. Pawan Kotwal chaired a meeting to discuss the Health Department's Action Plans for the Financial Year 2023-24 and the progress of procurement of Machinery and Equipment under SDP 2022-23.
Various physical infrastructures viz doctor's/staff quarters at Skurbuchan, Khaltse, Temisgam, and Nyoma, a 30 bedded hospital at Tangtse, CHC building at Padum apart from strengthening of existing hospitals and quarters are being carried out by CPWD and PWD.
Dr. Kotwal directed the respective departments to ensure adherence to Indian Public Health Standards (IPHS) norms during the construction of health infrastructures and stated that all ongoing and upcoming projects must be completed in a stipulated time period.
Dr. Kotwal urged the Health Department to act promptly on scrapping ambulances that are older than 15 years, as per directions received from the GoI. Additionally, he stated that all ASHA workers and ANMs must be equipped with a Hemoglobin meter, blood glucose meter, and a portable spirometer and must be provided with the required training on the usage of the equipment. Additionally, the installation of height and weight equipment in all government schools shall also be made mandatory.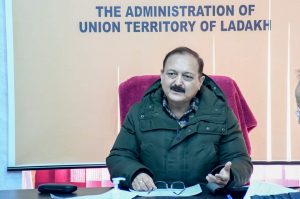 Further, the Health Department is also constructing Hyperbaric chambers. In this regard, highlighting its potential role, Dr. Kotwal urged the department to expedite the project soon. He stated that this must be achieved to ensure that Ladakh does not witness any casualties due to oxygen-related issues. Further, he added that the 48-hour acclimatization norm must also be strictly enforced.
While discussing the procurement of complex equipment and types of machinery, Dr. Kotwal stressed signing an Annual Maintenance Contract with the vendors of the equipments/machineries to assist in technical glitches which may arise in due course.
Dr. Iftakhar Ahmed Chowdhary, Additional Secretary, H&ME, Ladakh; Dr. Mutup Dorje, Director Health Service; Dr. Nurzin Angmo, Chief Medical Officer; Nisar Ahmad and Abdul Mutalib, Superintending Engineers, PW (R&B) Leh & Kargil, respectively; Dr. Tsewang Chorol, MS Leh, Konchok Gyalson, DD Planning, CPWD officials and other concerned officials attended the meeting.