Azadi Ka Amrit Mahotsav: 1st ever Potato Conference for progressive farmers held in Kargil
KARGIL, OCTOBER 16, 2021: Chairman and Chief Executive Councillor,LAHDC,Kargil Feroz Ahmad Khan chaired as chief guest in the first ever Potato Conference for progressive farmers organized by the Department of Agriculture Kargil as a part of the series of events held under Azadi Ka Amrit Mahotsav at Auditorium Hall Kargil here today.
Executive Councillor for Social Welfare Aga Syed Hassan Arman Mosavi , Executive Councillor for Works Aga Syed Abass Razvi, Executive Councillor for Rural Development Er Phunsok Tashi, Executive Councillor for Agriculture Mohsin Ali, Deputy Commissioner and CEO, LAHDC, Kargil Santosh Sukhadeve, Director Animal and Sheep Husbandry Ladakh Dr Muhammad Raza Abbasi, subject expert and resource person Chairman Lahoul Potato Growers' Cooperative Marketing cum Processing Society Limited Sudarshan Jaspa, Chief Agriculture Officer Kargil Kacho Muhammad Ali Khan, district officers besides hundreds of progressive farmers were present on the occasion.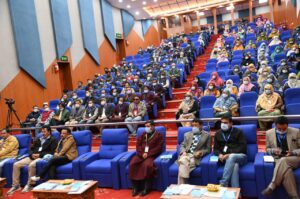 Speaking on the occasion, CEC Feroz Khan urged the progressive farmers to learn lessons for functioning of cooperative societies from the speech of the key resource person Sudarshan Jaspa. He said that formalisation of cooperatives would ease in production of local agricultural products, their marketing and branding.
The CEC instructed the concerned officers to conduct research and exposure tours of farmers to Lahaul Spiti region to acquaint them of the knowhow of both agricultural production as well as functioning of cooperatives. He further said that for enhancement of locally produced products, vegetables and fruits, the cooperatives department can play a vital role.
CEC Khan further said that a cold storage is need of the hour in the district and further  assured to take required measures to establish such a facility soon. He further informed that the LAHDC Kargil is bringing various schemes to provide funds under the subsidy component which includes benefits to farmers in both agriculture and horticulture sectors.
The CEC urged that in comparison to tourism, production sector especially agriculture and horticulture is a sustainable economy for the local population which ancient local wisdom also advocates saying "if you are shrinking hold the soil". He urged Sudarshan Jaspa to cooperate and collaborate with the District Administration Kargil in future to take the initiative of potato and peas production to next level.
The key speaker Sudarshan Jaspa said that the topography and agricultural potential of Zanskar and Kargil is similar to that of Lahoul Spiti. He gave a detailed history of Lahoul Potato Growers' Cooperative Society since its inception in 1965 to till date where the organisation went through various milestones.
Pertinently, Jaspa runs a cooperative society named Lahoul Potato Growers' Cooperative Marketing cum Processing Society Limited which has ranked second largest cooperative all over Asia after Amul.
Speaking on the occasion, Executive Councillor for Agriculture Mohsin Ali hailed Sudarshan Jaspa for carrying result-oriented production activities in Kargil that would help in generation of income to progressive farmers in the district.
EC Mohsin informed that the LAHDC Kargil is looking forward to totally abandon the use of chemical fertilizers by promoting vermi-compost and local traditional way of farming and said that the administration is aimed to make Kargil organic in terms of farming.
Deputy Commissioner Kargil Santosh Sukhadeve in his address said that cooperative movement is a good concept to promote agricultural produce and increase the income of middle families and farmers. He said that Amul is a best example of successful cooperative movement that is largest in Asia. He further said that this conference is also aimed at development of good functioning of cooperative societies.
The Deputy Commissioner urged the farmers to become self-dependent and get themselves prepared for production of agricultural products and vegetables locally.