BJP representatives conducts survey for 4G tower in Choskore constituency
BJP State General Secretary UT Ladakh Mohd Ali Majaz along with BJP State Media Secretary Union Territory of Ladakh Mohd Hassan Pasha conduct a survey for the installation of 4G towers in Choskore Constituency Kargil District.
The Survey done with the help of Sadanand Uniyal ji Divisional Engineer (DE) BSNL Kargil District, Sanjeev Kumar Sub Divisional Engineer (SDE) BSNL Kargil District, Sarpanch and Panch of Choskore Village.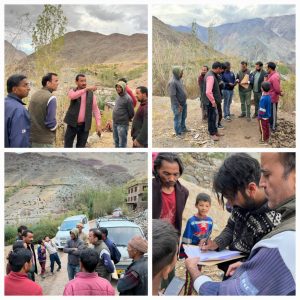 The villages are: Marpoyoul Village,
BaltiKhar Village, Batambis Village, Lobar Village and Choskore Area Village.
Later thanked Communications Minister Ashwini Vaishnaw and MP Ladakh Jamyang Tsering Namgyal for fulfilling the demands of digital connectivity to the remotest villages of Ladakh.