CEC, Dy Chairman, DC Leh attend reception ceremony of Padma Shri Awardee Tsering Namgyal in Leh
Leh, April 03: The Chairman/CEC, LAHDC Leh, Adv. Tashi Gyalson, attended the reception ceremony conducted for Padma Shri Awardee in Art this year from Ladakh, Shri Tsering Namgyal at the Hinju Nyan Yokma residence in Kuzay, Chushot village today.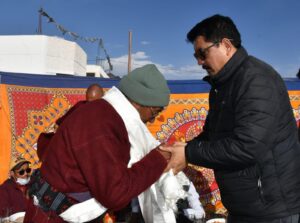 He was accompanied by Dy Chairman, Tsering Angchuk, and DC Leh, Shrikant Suse. Special guests present during the occasion were H.E Skyabje Togdan Rinpoche, Padma Shri Morup Namgyal, Head of Political Parties of Leh, Sarpanches, Naib Sarpanches, Nambardars of Hinju village, and Representatives of Ama Tsogspas.
All the officials felicitated Shri Namgyal with traditional khataks and congratulated him for the recognition received from the Govt. of India.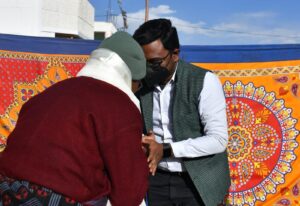 In his message, CEC Tashi Gyalson extended good wishes and congratulated Shri Tsering Namgyal and his family from Hinju Village, Leh for getting conferred with one of the highest civilian awards of the nation "Padma Shri" for his distinguish services in the field of Art.