CEC Feroz Khan attends valedictory function of 15-day Carpet Weaving Training Program
Kargil, Feb 13, 2023:
Chairman/CEC, LAHDC, Kargil, Feroz Ahmad Khan today attended the valedictory function of the 15-day Carpet Weaving Training Program organized by the Directorate of Industries and Commerce in collaboration with Obeetee for the trained artisans of Kargil.
Executive Councillor for Handicraft, Er Punchok Tashi, EC Health, Mohsin Ali, ADC Kargil, Ghulam Mohi-Ud-In Wani, ACD, Ghulam Mohd, District Treasury Officer, Iftikhar Hussain, Superintendent Handloom, Iftikhar Naseem, District Sheep Husbandry Officer, Dr Niyazul Hasnain, Assistant Director Handicrafts, Raziya Khatoon, Headquarter Assistant, Arifa Iqbal, Coordinator Obeetee, master trainers, District Program Coordinator Handloom, Kargil, Kaneez Fatima beside handicrafts artisans were present during the event.
On the occasion, the CEC congratulated the Handicraft Department Kargil for successfully organizing the training program. He encouraged artisans to participate in such training programs to enhance their skills and art professionally to be financially independent.
He informed artisans about Subsidy Component of LAHDC, Kargil and urged them to take benefit of such schemes and suggested making their own units at village and block levels.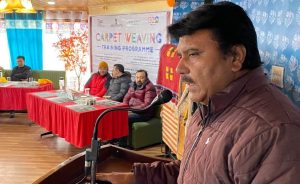 The CEC also informed about the scope in the Carpet Weaving Industry. He suggested the Department for close coordination with Obeetee and also directed to sign a Memorandum of understanding (MoU) for organizing such events at the Council level in the future.
They also said that the LAHDC Kargil is committed to help all the artisans.
EC Mohsin and EC Tashi also congratulated the Department and Obeetee for successfully conducting the training program. They focused on self-employment and urged artisans to learn new techniques and teach it others adding that the industry has huge scope in employment generation.
Earlier, the AD Handicrafts, Raziya Khatoon in her welcome address informed about the training program and various other achievements of the department.
Later, certificates were distributed to the artisans for completing the training program. The District Program Coordinator Handloom, Kargil conducted the program proceedings.