CEC Feroz Khan, DC, SSP visit Drass to assess condition of Old Hanfia Jamia Masjid damaged due to fire
Kargil, Nov 17, 2022: Chairman and Chief Executive Councilor, LAHDC, Kargil Feroz Ahmed Khan today visited Drass to assess the condition of Old Hanfia Jamia Masjid damaged due to a fire incident on Wednesday.
Executive Councilor Works Mubarak Shah Naqvi, Deputy Commissioner/ CEO, LAHDC, Kargil Santosh Sukhadeve, SSP Kargil Anayat Ali Chowdhury, Executive Engineer PDD Altaf Hussain and concerned officers accompanied the CEC during the visit.
The CEC visited the Mosque and took a detailed assessment of the damage.
Khan was informed that the top two floors of the three storey Mosque has completely damaged including dome of the mosque.
Further, he was informed by locals that Drass has reported four major fire incidents in the past two years and they requested for a Fire Service Station in the sub-divisional.
Later, the CEC along with the dignitaries held a meeting with the management committee of the Mosque at Dak Bungalow Drass and gave a patient hearing to the demands forwarded by the residents.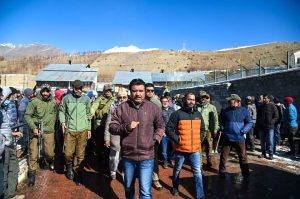 Regarding temporary roof topping of second storey of the mosque, the CEC assured for every possible help from LAHDC and District Administration Kargil so as to protect the remaining structure from heavy accumulation.
For financial assistance for construction of the whole mosque, Khan assured that possibilities will be explored in near future.
About the allotment of fire tender in Drass, the CEC agreed to station it there on the condition if the land is provided and promised that the vehicle shed will be constructed by the concerned government executing agency as well.
Khan further asked the Management Committee to take care of the fire tender until the shed is completed. The latter assured that they will take care of the fire tender.
The CEC said that the people of Kargil, LAHDC and District Administration Kargil are in solidarity with the people of Drass in this tough time.
During the meeting, SSP Kargil Anayat Ali Chowdhury advised the Management Committee to circulate their authentic bank details in various media platforms so that miscreants don't take advantage of this situation.