KARGI: APRIL 20, 2022
Chairman and Chief Executive Councilor (CEC), LAHDC, Kargil Feroz Ahmed Khan today inspected the ongoing construction work of link road Groung to Gavlo via Starga to Gounkhar village of Choskore area.
Councilor Choskore constituency Nasir Husain Munshi, Superintending Engineer (SE) PWD Nisar Ahmed, Executive Engineer R&B II Kacho Mehmood, Engineers of PWD besides other concerned officers were present during the visit.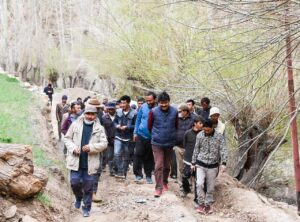 During the visit, the concerned officer apprised the CEC that the construction work on the link road Groung to Gavlo via Starga to Gounkha is going on full swing and informed that a small patch of about 1000 meters is remaining.
CEC Khan on spot cleared the apprehensions of local residents regarding the land utilization for the road construction. While giving a patient hearing to public concerns, CEC unanimously solved the issues of locals and gave a viable solution.
Khan also urged locals to extend their hands to execute developmental works at the ground level. He also said that until and unless locals will not work in close coordination respecting mutual interest developmental activities cannot be performed.
Meanwhile, CEC directed officers of PWD to complete the remaining stretch at the earliest and strictly adhere to the quality and quantity measures in construction works.
Meanwhile, a public delegation also met CEC Khan and put forwarded their issues and grievances to which he gave a patient hearing and assured prompt action at the earliest.
The demands of the delegation included construction of Grong Yourba Brast Wall, Qatlgah culvert, link road Danga, timely compensation of tress, land and other damaged properties for road construction works, posting of teachers and other related demands.