CEC Feroz Khan launches Immunity Boosting Programme for below 18 age group
Stresses on mass awareness of regarding Immunity Boosting Programme among parents, adherence of COVID-19 SOPs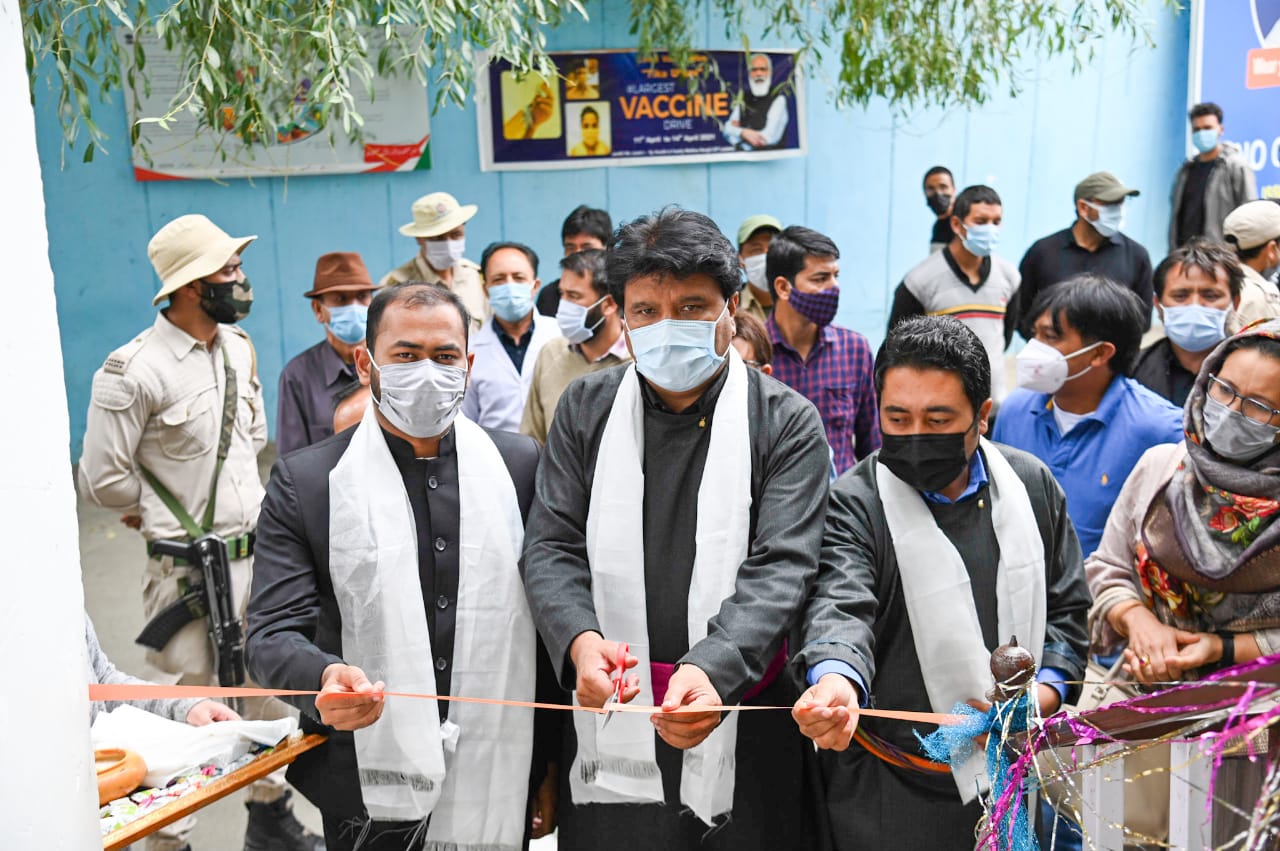 KARGIL AUGUST 15, 2021: Chairman and Chief Executive Councilor, LAHDC, Kargil, Feroz Ahmad Khan launched Immunity Boosting Programme for below 18 age group in the district during a function held at District Hospital Kargil here today.
Executive Councilor for Health Mohsin Ali, Deputy Commissioner and CEO, LAHDC, Kargil Santosh Sukhadeve, Chief Medical Officer (CMO) Kargil Munawar Hussain Wazir, District Programme Officer ICDS Nargis Banoo, District Social Welfare Officer Aga Syed Jamal, Deputy CMO Kargil Dr Muhammad Abbas, District Immunization officer (DIO) Kargil Dr Abdul Jalil , Medical Superintendent District Hospital Kargil Dr Liyaqat Ali , Block Medical Officer Kargil Dr Fatima Nissa, doctors, other concerned officers of Health Department, parents and below 18 children were present during the occasion.
Highlighting the importance of Immunity Boosting Programme, CEC Feroz Ahmad Khan said that this age group as mentioned by experts is more vulnerable of getting infected during the 3rd wave of COVID-19 as they have not yet been vaccinated with COVID jabs.
He added that the immunity boosting programme organized by the Health Department UT Ladakh will help a great deal in increasing the immunity of the below 18 age group and will protect them from getting infected.
Khan on the occasion congratulated the Health Department Kargil for achieving maximum targets in vaccinating the population across the district, and expressed optimism that the Immunity Boosting Programme will be carried out with at the district as well as all block and village levels with similar enthusiasm as the vaccination process. He further added that mass awareness needs to be done to enlighten the parents of the beneficiaries wherein it should also be ensured that due care is taken for strict adherence of Covid Appropriate Behavior (CAB) even after the required supplements will have been given to the children.
Meanwhile, Consultant Pediatrician Dr Anwar Hussain said that the programme has been launched at the UT level by the LG Ladakh R K Mathur today, and proper guidelines have been framed in consultation with different stakeholders on how to boost up the immunity of the below 18 years group by giving them prescribed amount of folic acid, Vitamin D and other supplements.