CEC Feroz Khan visits GMS Shilikchey, Bagh-e-Khumaini, Andoo
Kargil, March 28, 2023: Chairman/CEC, LAHDC, Kargil Feroz Ahmad Khan today visited Government Middle School Shilikchey, Bagh-e-Khumaini and Andoo.
The CEC took a detailed assessment of infrastructure, academic activities and other issues related to the respective schools. Councilor Poyen Constituency, Mohd Amin, Chief Education Officer, Kargil Mushtaq Ahmad Executive Engineer R&B besides other concerned officers accompanied the CEC during the tour.
The CEC took a detailed assessment of the academic activities and gave a patient hearing to issues and grievances forwarded by teachers and Village Education Committee. CEC has also enquired about roll statement and Teacher posted.
At Shilikchey, Khan directed the concerned to complete the necessary infrastructure-related works within 15 days of the newly built school complex.
The villagers also requested for dry toilet at school, shifting of existing teachers and a Hindi teacher to which the CEC assured to look into the matter.
At Govt. Middle School Bagh-e-Khumaini, the CEC appreciated the role of the villager for providing land for school and also enquired about the enrolment and academic activities. The School Headmaster informed that there are 125 students.
He directed the CEO Kargil to dismantle old building and include it in the next financial year. At Andoo, the CEC also took a detailed assessment of attached teachers and other academic activities. CEC directed the Chief Education Officer to detach three Teachers to ensure the rationalization policy.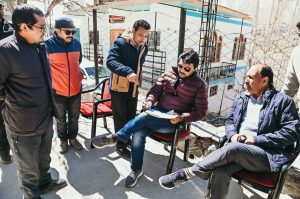 It was informed that at Andoo land for building school was given by the villagers to which the CEC said after assessment of land feasibility the administration can do further follow-up.
Earlier, Byathang Shilickchey villagers also submitted a memorandum of requests for the resumption of work at the link road Bypass to footbridge Byathang. The CEC was informed that the road work is not completed yet due to unknown reasons.
Further, the residents requested for land compensation. They also requested to take up the matter of concrete wall opposite the village as they said when the water flow turns towards the village it affected agricultural land and orchards.
The CEC gave a patient hearing to the requests and assured to take up the issue with the concerned authorities for redressal.