KARGIL, APRIL 04, 2022: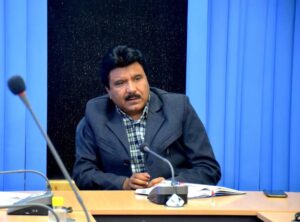 Chairman and Chief Executive Councilor (CEC) LAHDC Kargil, Feroz Ahmed Khan today chaired a review meeting to assess developmental activities, traffic management system and other major development issues of Kargil town at Council Secretariat.
Executive Councilor Health LAHDC Kargil, Mohsin Ali, Deputy Commissioner and CEO LAHDC Kargil, Santosh Sukhadeve, Councilor Town constituency, Haji Muhammad Abbas, Councilor Poyen Constituency, Haji Muhammad Amin, Superintending Engineer, PWD (R&B) Kargil, Nisar Ahmed Bagh, Chief Medical Officer Kargil, Executive Engineer, PHE Division Kargil, Executive officer, MC Kargil, Tehsildar Kargil, besides concerned officers were present during the meeting.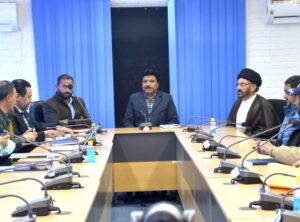 During the meeting, threadbare discussions were held on different aspects of developmental activities and the traffic management system of Kargil town.
Khan was apprised that under AMRUT phase first and second, Rs 37 crore and Rs 62 crores have been allocated while for Sewerage Treatment Plant (STP) Rs 124 crore has been allocated.
The CEC was further informed that in order to cater the drinking water needs of Kurbathang Plateau, a lift irrigation plant needs to be explored near Chutuk.
The CEC Khan directed to hold a survey in this regard and also directed to check the feasibility of water supply on gravity module for Goma Kargil and adjacent areas.
He was also informed that water connection of Kargil town has been charged and water will be distributed within few days.
SE, R&B Division Kargil informed the CEC that on the direction of UT administrations few short term decisions were taken for the beautification of Kargil town which included cleaning the roads by watering on which action has been taken, maintenance of electric poles from Kargil Town to Baroo stretch needs to be done and besides it signages at different junctions of the town needs to be installed.
Pertaining to the maintenance, erection, beautification, removal of electric and street poles, the CEC directed the MC and PDD departments to jointly hold a survey to identify non-essential and essential poles. Further related to signages, the CEC was informed that these will be installed at the earliest.
During the meeting, the CEC also took an assessment of various other developmental works including the construction of van stand complex, parking facility at Hussaini Park, an alternative route from Fatima Chowk to Iqbal Bridge, construction of Government Girls Higher Secondary School and road construction works.
CEC Khan directed the concerned officer to prioritize the works of Hussaini Park, alternative road via Fatima Chowk to Iqbal Bridge Baro-do and van stand on priority so that it can be reflected in the coming district plan.
He further added that the ground floor of van stand complex should get functional at the earliest further the ground floor and playground of Girls Higher Secondary School should be made functional within a month.
The CEC asked the concerned Councilors to mitigate with the public to continue the construction works of link roads of Chanchik-Goma Kargil, Daz- Dethang and Poyen-Shikikche respectively.         
Later, the CEC and DC along with the concerned councilors and officers visited the locations including Fatima Chowk- Iqbal Bridge road site, van stand complex, Hussaini Park, Animal Husbandry premises Balti Bazar and Girls Higher Secondary School Baroo and took a detailed assessment of works and directed to find necessary ways to complete the projects.