Leh, April 09: The Chairman/CEC, LAHDC Leh, Adv Tashi Gyalson convened a meeting to review the overview of the 'Subsidy Component' of Leh district for the financial year 2022-23 today.
The officials had a detailed discussion and deliberations on the action plans and coverage of the subsidised components and its schemes for the financial year 2022-23 of LAHDC Leh.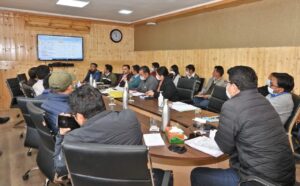 CEC Gyalson instructed HoDs to prepare the draft proposals before the next review meeting.
The meeting was attended by the Executive Councillors of LAHDC Leh, CPO Leh; IAO LAHDC Leh, CMO Leh and all the concerned HoDs of various Departments of the Leh district.