DC Leh discusses draft Annual Action Plan of RSETI 2023-24
Leh, Jan 11: Deputy Commissioner, Leh, Shrikant Suse, who is also the Chairman, Local Advisory Committee, RSETI Leh, chaired a meeting to discuss the draft Annual Action Plan of RSETI for the financial year 2023-24 with the concerned district officers and stakeholders.
Discussing the draft Annual Action Plan of RSETI for 2023-24, Director, RSETI Leh informed about the vision of RSETI to introduce training courses specific to and in demand in the region to enhance the self-employability opportunities of the youths.
The meeting deliberated and decided to introduce three training courses, including Cultivation of Medicinal and Aromatic Plants, Two-Wheeler Mechanic and Aluminum Fabrication inclusive of insulation and double glazing, etc this year in RSETI training, apart from the other select training programmes in plumbing, poultry, food processing, etc.
DC Leh stressed the convergence of resources and schemes of different departments to enhance the efficacy of the training programmes. He also directed on making the training courses holistic by linking with banks for loaning facilities for establishment of new business units.including related topics/aspects. In this regard, he instructed to add Food Safety Standards during training on the Basic Packaging of food products and other related courses.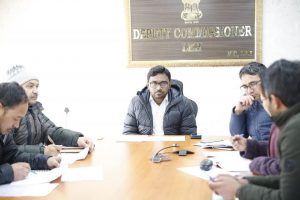 He also directed the officers of NABARD, Horticulture and Industries and Commerce Department to chalk out a major training course on the technical aspect of food processing to enhance the knowledge and skills of those involved in the food processing sector, adding that food processing has huge potential in the region.
Chief Planning Officer, Leh; Deputy Director, Employment and Career Counselling Centre, Leh; Chief Animal Husbandry Officer, Leh; Chief Horticulture Officer, Leh; Director, Handicraft, Leh; Lead District Manager, Leh, and District Development Manager, NABARD, Leh attended the meeting.