DC Santosh chairs meeting of DLCC to review implementation of COTPA in Kargil
Kargil, May 22, 2023:
In order to review the implementation and enforcement of the Cigarette and Other Tobacco Product Act (COPTA) in the district, Deputy Commissioner/ CEO, LAHDC, Kargil Santosh Sukhadeve, who is also the Chairman of the District Level Coordination Committee (DLCC) of the National Tobacco Control Program, today chaired a meeting in his Office Chamber.
During the meeting, SDMs, Chief Medical Officer, Chief Education Officer, DY SP, AD Information, Assistant Labour Commissioner, District Immunization Officer, Principles of Government Degree Colleges and Higher Secondary Schools besides other concerned officials were present during the meeting.
At the outset, a threadbare discussion was held to chalk out a plan to ensure visible impact of implementation of COPTA on the ground through effective surveillance, feedback mechanism and taking timely measures to curb the menace of tobacco products.
Speaking on the occasion, Deputy Commissioner directed the concerned officers of Police, Health and Education Departments to chalk out collective and effective plan for the implementation of COPTA and against the tobacco menace in the district.
DC Kargil directed the concerned officer from DIPR Kargil to start a campaign in local language and spread awareness among the general public against ill effects of tobacco use.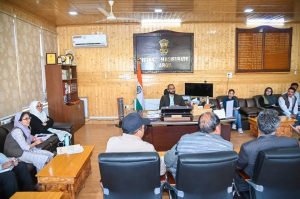 DC Santosh also directed ALC Kargil to hold special programs at various workplaces where labourers are working at large numbers and aware them.
He also directed DY SP Kargil to strictly monitor the shopkeepers that sell tobacco products within the 100-meter vicinity of school area.
The Deputy Commissioner also directed to impose fine on shopkeepers found selling tobacco products to minors. DC Kargil directed DYSP Kargil to identify defaulters and fine them if found smoking at public places. He strictly directed to mobilize police personnel and keep regular vigilance in the market areas and make public places smoking-free.
While expressing concern over the involvement of minors and school-going children in tobacco use, DC Kargil directed CEO Kargil and Principles of various schools to hold awareness programs in schools to aware children about the ill effects of tobacco.
The DC also appealed to the people of Kargil particularly the shopkeepers to desist from the sale of cigarettes and other tobacco products and save the younger generation from the ill effects of the tobacco products.
DC Santosh also directed to hold creative awareness program like paintings, essay writing, skits etc. to aware students about the negative effects of tobacco and drugs in daily lives.
The DC Kargil also directed to spot the areas and put them under constant surveillance and monitoring mode so that defaulters are identified.