KARGIL, MAY 07, 2022: Director Rural Development Department (RDD), Tahir Hussain Zabdawi today inaugurated Block Development Office and visited other RDD infrastructure and SHG groups at Sankoo block.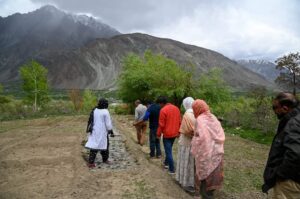 The director was accompanied by Assistant Commissioner Development, Ghulam Muhammad, Executive Engineer REW Gulzar Hussain Munshi, Tehsildar/BDO Sankoo Kaneez Fatima, PRI members and other concerned officials.
The director reviewed and inspected the functioning of the National Rural Livelihood Mission (NRLM) SHGs in the block that are running different trades like sanitary pads manufacturing, tailoring, canteen, growing vegetables etc.
Sankoo Sanitary Pad manufacturing unit is run by three NRLM SHGs on trial basis and is expected to supply sanitary pads on nominal price in market to ensure menstrual hygiene.
The tailoring centre at Chechesna is providing training on tailoring to females in the area who also produce eco-friendly bags, school uniforms, ladies suits etc.
The Director instructed to produce the stitched items in large quantity to ensure supply for tourists, and schools. He discussed renovation and upgradation of BDO/BDC office and residential quarter at Sankoo.
The concerned officials appraised the Director about the progress on procurement of bins and other materials for proper treatment of garbage at Sankoo market.
The Director distributed revolving fund of 15000 per SHG to 18 SHGs and CIF of 40000 per village organizers (VO) to 13 VOs under NRLM.