District Skill Committee Kargil organizes virtual workshop on skilling in paints, coatings sector job roles
KARGIL, SEPTEMBER 01, 2022:
District Skill Committee of Kargil in association with Paints & Coatings Skill Council today organized a virtual workshop on skilling in paints and coatings sector job roles.
The workshop was convened by V. Srikar Reddy, MGNF-Kargil and moderated by Kazim, Convenor of DSC Kargil and Superintendent of ITI Kargil in which BDC's, PRI members of different blocks participated.
In the virtual program, Jagdish Acharya, CEO of Paints & Coatings Skill Council and his team members imparted awareness about skill development in Paints & Coatings to the participants.
The PRI's lauded the efforts and promised cooperation at the Panchayat level for promoting skill development and entrepreneurship among unemployed youth and semi-skilled painters.
Mohd Sajjad Khan, a public speaker, also addressed the audience. "We need to change our perspective towards painting as painting is not merely a manual work but an art that must be encouraged," he said. Mushtaq Ahmed of Humas upliftment organization also attended the workshop.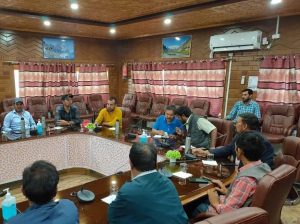 Jagdish Acharya along with the training partners agreed to kick start a pilot training of the first batch in Kargil by hiring trainers and experts from outside Kargil.
He said in the later time a project will be replicated in all the far-flung areas of Kargil to enhance the livelihood of the youth as the paint and coating industry has tremendous scope. Acharya also promised for more awareness programs and work on the ground.
Hakeem Qazi of PCSC urged the PRI members for skill hunt and encourage the youth to participate in the world skill competition.
The conference was concluded with vote of thanks by Kazim who thanked the CEO Paints & Coating Skills Council and his team for such valuable steps. He also thanked the BDCs, PRIs, and other dignitaries for attending the program.