Abass Ali
Editor
Div Com Ladakh takes stock of winter stocking
Leh, September 10: Divisional Commissioner, Ladakh, Saugat Biswas convened a meeting to review the winter stocking for the forthcoming winter in both Leh and Kargil districts at Leh today.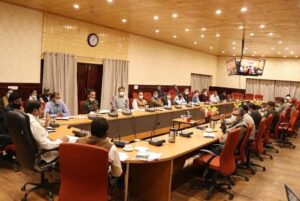 Divisional Commissioner, Biswas inquired about the stocking of kerosene, sugar, diesel, petrol, medicine stocking and supply equipment, essentials commodities for the winter. The concerned officials from both districts updated the status of all the essential commodities stocking.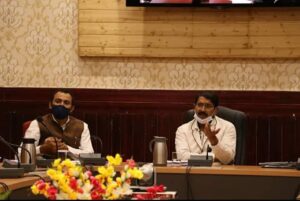 The Cooperative Department was directed to start the process of procurement of essential supplies and to utilise the cold storage at the optimal level. He directed the Deputy Commissioners of both districts to oversee the decentralised stocking of kerosene in tanks, especially in remote areas. CMO, Leh and Kargil, apprised Divisional Commissioner about the procurement of pharmaceutical stock in both the districts and assured that the stocking will be completed by mid-October.
Biswas urged to check the rate lists and the quality of food items in Leh & Kargil district for ensuring the supply of essential commodities to inaccessible areas. He further directed the Food and Civil Supplies Department to take step to dispatch essential commodities to remote areas such as Zanskar at the earliest.
The officials of Indian Oil Corporation Limited (IOCL) and Hindustan Petroleum Corporation Limited (HPCL) were urged to provide dealerships to locals in inaccessible areas to address the issue of lack of availability of fuel.
District Forest Officer (DFO) Leh, Mohammad Ali informed that about 2600 quintals of firewood is stocked by the department in Leh for the winter. Similarly, Chief Animal Husbandry Officer (CAHO) Leh, Mohammad Iqbal apprised the Divisional Commissioner, Saugat about the steps being taken for quick procurement of fodder, feed, medicines, fish seeds etc by the department.
Saugat Biswas also enquired about the operations of DG Sets during winter and urged the department to ensure servicing and upkeep of the DG Sets for uninterrupted supply.
The concerned officers of various departments & representatives of Merchant Association of both the districts apprised Biswas regarding the problems they have been facing. The Merchant Association representatives were directed to work in close coordination with the office of the Deputy Commissioner and Cooperative Department for ensuring seamless supplies.
The meeting was attended by Secretary Cooperatives Department; Deputy Commissioner, Leh; Deputy Commissioner, Kargil; Additional Deputy Commissioner, Kargil; Director, FCS&CA, Ladakh; Chief Engineer, PDD, Ladakh; Chief Medical Officer (CMO), Leh; Chief Medical Officer (CMO), Kargil,; Chief Animal Husbandry, Leh/Kargil; DRC, Leh/ Kargil; DFO, Leh/Kargil; AD, FCS&CA, Leh/Kargil; Under Secretary Civil Aviation Department Ladakh; Sr. Manager HPCL, Leh/Kargil; Depot Manager FCI Leh/Kargil; Manager IOCL, Leh/Kargil; President Merchant Association Veg/ Non Veg Leh/Kargil