Div Com Saugat Biswas calls on CEC Feroz Khan at Council Secretariat
Kargil, Dec 08, 2022:
Divisional Commissioner and Commissioner/Secretary, UT Ladakh, Saugat Biswas today called on Chairman/CEC, LAHDC, Kargil, Feroz Ahmad Khan at Council Secretariat.
Executive Councilor Works, Mubarak Shah Naqvi and EC Health Mohsin Ali were also present during the meeting.
During the meeting, a threadbare discussion was held in order to start the AN-32 Kargil Courier Service and it was informed that the service would be started soon.
It was also discussed to keep the Zojila pass open till the weather allows for the maximum possible time.
They also took a review of the developmental activities of Rural Development and Panchayat Raj Department (RD&PRD) and its future plans.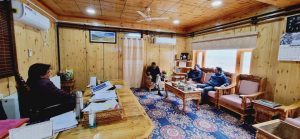 During the meeting, it was also informed that the incubation center of DIC Kargil would be inaugurated soon after its remaining minor works are completed.
The Divisional Commissioner and CEC also held a detailed discussion on the developmental activities of Handloom and Handicraft Departments and the interventions.
They also discussed about the under-construction of Industrial Sub Station/Industrial Estate Kurbathang which is likely to be started soon.
A detailed discussion was also held on the developmental activities and issues concerning the Handloom and Handicraft Departments.