Leh, April 15: An awareness-cum-counselling session was conducted by the Drugs and Food Control Organisation, Leh on 'Prevention of drug abuse among children and adolescents and Illicit trafficking' with the pharmacists working and chemists operating in Leh town and the pharmaceutical distributors in Leh at the DC Conference Hall today.
Resource person, Dr Padma Angmo, Psychiatrist, SNM Hospital Leh, spoke at length about the prevailing incident of drug and substance abuse in Ladakh among children and adolescents. She stressed that drug abuse has grave implications not only on health but leads to societal degradation giving rise to various malice, such as crime, school/college dropouts and unemployment, etc.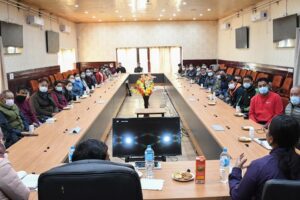 She highlighted the importance of awareness as an effective tool for preventing drug abuse and disseminating the information that medical treatment of drug abusers is possible. She also stressed the need to destigmatise such treatment.
Incharge, Drugs Controller, UT Ladakh, Mohd Bashir; Drugs Control Officer, Leh, Nasreen Bano and President, Chemists and Druggists Association, Leh, Sonam Dawa also spoke on the occasion.
They highlighted the major role of the pharmacists, as healthcare professionals, in preventing the menace of drug abuse through their knowledge, counselling, data regarding the drugs mostly sold or dispensed and the user detail. They appealed to the pharmacists as they are in direct contact with the patients and their relatives to guide and suggest them to seek medical treatment or counselling.