Drugs Control Department Ladakh organises awareness camp at Kargil on prevention of drug abuse
KARGIL OCTOBER, 24 : An awareness-cum-counselling session was organised by the Drugs Control Department, UT Ladakh on Prevention of drug abuse among children adolescents and effective dispensing of medicines to the patient, general masses, and price of medicines
related information with the working pharmacists,chemists operators in Kargil town and the pharmaceutical distributors at Auditorium Hall Kargil today.
Assistant Drug Controller, UT, Ladakh Mohd Bashir highlighted the importance of awareness as an effective tool for preventing drug abuse and disseminating the information that medical treatment of drug abusers is possible. He also stressed the need to destigmatise such treatment.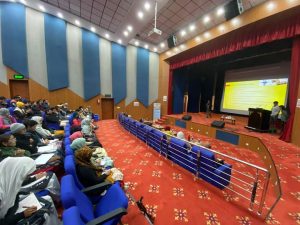 He highlighted the major role of the pharmacists, as healthcare professionals, in preventing the menace of drug abuse through their knowledge, counselling, data regarding the drugs mostly sold or dispensed and the user detail.
He appealed to the pharmacists as they are in direct contact with the patients and their relatives to guide and suggest them to seek medical treatment or counselling.
Senior Pharmacist, Haji Ismail, Zaheer Hussain Babar also spoke on the occasion.
Project Manager, Nawang Tsetan, Field Investigator, Nazia Kousar, Chemist operators, pharmaceutical distributors beside other concerned were present during the occasion.