EC Aga Syed Mehdi Fazili visits Stakpa, Umba villages
KARGIL, AUGUST 27, 2022:
Executive Councilor Social Welfare, Horticulture, Animal Husbandry, LAHDC, Kargil Aga Syed Mehdi Fazili today visited Stakpa and Umba village.
During the tour, he was accompanied by Councilor Ghulam Haider, Nambardar and Panches of Stakpa and Umba.
He visited Malikbar Mohalla. The residents demanded sub-center at Malikbar Krilma, Umba, construction of link road from Masar to Malikbar with motorable bridge and construction of irrigation Khul from Mabothang to Malikbar.
The EC also visited Yakza Mohalla of Umba village. The residents demanded construction of a footbridge at Shagaran Yakza, construction of irrigation khul at Broknak Yakza and the establishment of an Animal and Sheep Centre at Umba village.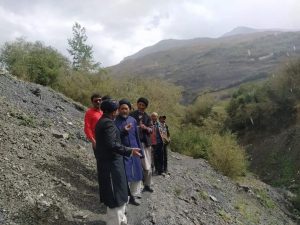 The HEC also visited Umba where the residents demanded immediate construction of a footbridge at Karpochuka and Handloom centre.
Later, the he also visited Stakpa village where the inhabitants demanded Animal and Sheep Centre, construction of footbridge and tailoring and knitting centre.
During the visit, the EC gave a patient listening to the projected demands of the local residents and assured them that he will take up the matter with the concerned authorities.