KARGIL, NOVEMBER 25, 2021: Executive Councillor for Health Mohsin Ali who is also the Councillor of Chiktan Constituency today inaugurated a digital lab at Boys Middle School Chiktan which is being run on the Public Private Partnership (PPP) mode.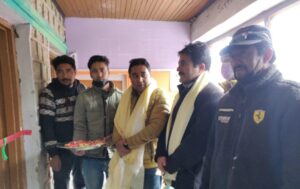 The digital lab has been provided by 17000 Ft Foundation and sponsored by SBI Foundation.
SDM Shakar Chiktan Muhammad Sharief Kakpori, BDC Chairperson Syeda Banoo, ZEO Chiktan Ghulam Qadir, Sarpanch Chiktan, Panchs, Nambardars, Village Education Committee (VEC) members, parents and teachers were present on the occasion.
Speaking on the occasion, EC Mohsin Ali expressed gratitude to the 17000 Ft  Foundation and SBI Foundation for providing the digital lab equipped with tablets loaded with syllabus related study materials for the children and other allied facilities.
Meanwhile, it was further informed that a training for teachers to run the digital lab shall also be imparted in the month of March next year.
The VEC members demanded to construct an additional storey to resolve the shortage of classes in the school to which the EC assured to take up the issue with the concerned authorities.
Later, the EC Health also visited Government Higher Secondary School Chiktan and Community Health Centre Chiktan and took stock of the functioning of these institutions.