Press Release
Five-day training for Traffic Police personnel commences at DPL Leh
Leh, April 01: A five-day training course on modern traffic gadgets, Motor Vehicle Amendment Act 2019 and traffic drills (Indoor/Outdoor) was organised by the Police Headquarters (PHQ), Ladakh for its Traffic Wing police personnel commenced today at District Police Line (DPL), Leh.
PHQ Ladakh has invited experts on modern traffic gadgets from Enhansafe India Pvt Ltd, the highly famous' Dancing Cop', Head Constable, Ranjeet Singh of Indore (MP) Traffic Police and drill instructors from Sher-i- Kashmir Police Academy (SKPA), Udhampur to impart the training to the Traffic Police personnel of UT Ladakh.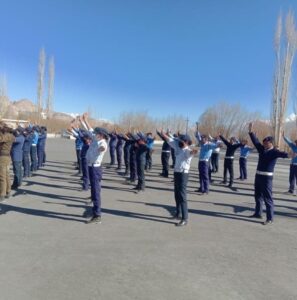 The training aims to enhance the capabilities of the traffic police personnel equipped with modern traffic gadgets to regulate and enforce traffic in the region in the ensuing tourist season.
At the outset, Superintendent of Police (SP) Traffic, Mohd Rafi Giri elaborated on the aims and objectives of the training programme and shared its effectiveness in enhancing the skills of the traffic police personnel both in terms of traffic regulation and enforcement duties. He impressed upon all the participants to attend the training course with interest and curiosity. He urged them, especially the traffic challaning/enforcement officers, to clear their doubts regarding the handling of modern traffic gadgets, such as Speed Radar Gun, Breath Analyser, Body Worn Cameras, Search Lights, etc.
SP Traffic requested the trainers/experts to impart training to the best expectations of all the participants and expressed hope to see the results visible on the ground.
The opening ceremony was followed by drill/traffic signal classes by the drill instructors and 'Dancing Cop' HC Ranjeet Singh.
Expert on modern traffic gadgets Pankaj Kumar Sahrawat also gave an introductory lecture on modern traffic gadgets which was followed by practical classes.
The practical demos on traffic regulation in towns of both Leh and Kargil district by the famous 'Dancing Cop' Ranjeet Singh is highly anticipated by all.
Dy SP, Traffic Leh, Mohd Baqir; District Traffic Inspector (DTI) Leh; Flying Squad In-charge; all SOs/Challaning officers and Traffic Police personnel of both Leh and Kargil traffic units participated in the event.