GDC Drass organizes cleanliness drive
Kargil, May 27, 2023: Govt. Degree College, Drass in collaboration with World Wildlife Fund (WWF), Forest Department Kargil, Drass Administration and Rural Department today conducted a mega cleanliness drive in the Sub Division.
The drive was aimed to sensitize the general public about the importance of keeping environment neat and clean. The title of this event was "The Himalayan Cleanup: Beat Plastic Pollution" with the theme "Life Style for Environment".
The drive started with a huge rally from GDC Drass, then to the Drass market by the students and teachers of different Higher Secondary Schools and High Schools of Drass and college's students and faculty as well.
Various types of slogans were raised and many kinds of banners and pamphlets were distributed among the public. The rally ended at the Tourist Dak Bungalow where garbage bags, face masks and gloves were distributed among the participants.
Before dividing the students and staff into different groups, the Coordinator of WWF Dr Rohit Ratan, Dr Amjad Ali Abbasi Principal GDC Drass and SDM Drass appraised the participants about the importance of the event.
They spoke about the need for waste management and segregation also. Further, they instructed the participants to collect and segregate waste from different parts of Drass market. BDC Chairman Drass, Noor Mohd lead the drive actively.
Later, each group collected different types of waste from in and around the Drass market with great dedication and enthusiasm.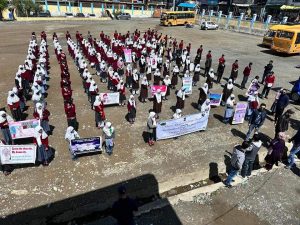 The garbage was dumped at the college ground and segregated accordingly in different categories like plastic, paper, glass, electronics, wood, biomedical, metal wastes etc. A proper sampling and data was collected by the students and teachers for further research.
All the shopkeepers and restaurant owners were called at the college and a short awareness program concerning waste management was held to them. They were also asked to strictly follow the idea of Swachh Bharat Abhiyan and keep their surroundings neat and clean.
In their concluding remarks, Principal GDC Drass, SDM Drass, BDC Drass and BDO Drass thanked all the participants for their active participation in conducting the cleanliness drive.
Later, the coordinator, WWF, Dr Rohit Ratan also expressed gratitude to Principal GDC Drass for his kind support in conducting this significant cleanliness drive quite successfully. He urged the participants to spread awareness among their families and friends to save the environment from getting polluted.
A pledge to save the environment was taken by all in the hall. The program was coordinated by Dr Imtiyaz Hussain, Assistant Professor Botany. The program ended with vote of thanks presented by Mohd Ali Shabir, Assistant Professor English.