Health Dept. Kargil celebrates 2nd day of Jan Aushadhi Diwas 2023
CMO Kargil flags off students of GNM School to spread awareness about Jan Aushadhi Medicines
Kargil, Mar 02, 2023: Health Department Kargil today organized a rally on the second day of Jan Aushadhi Diwas 2023 themed "Jan Ashudhi Pratigya Yatra" to spread awareness among the public about Jan Aushadhi Medicines available at cheaper prices in the district.
The Jan Aushadhi initiative will make available quality drugs at affordable prices through dedicated stores that sell generic medicines available at lesser prices but are equivalent in quality and efficacy like expensive branded drugs.
Chief Medical Officer Kargil, Dr Munawar Hussain Wazir flagged off students of GNM School at Old District Hospital Kargil to spread awareness about Jan Aushadhi Medicines.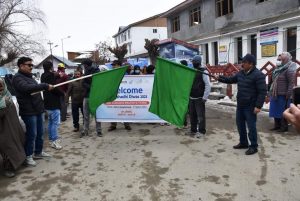 Medical Superintendent, Dr Liaqat Ali, Nodal Officer Ayushman Baharat & ENT Surgeon Dr Oliyat Ali, teachers and students of General Nursing Midwifery (GNM) School, Kargil participated in the rally.
Speaking on the occasion Dr Oliyat said the rally is aimed to spread awareness and ensure access to quality medicines and coverage of quality generic medicines to reduce out-of-pocket expenditure on medicines and thereby redefine the unit cost of treatment per person.
He said the Jan Ashudhi Week aims to create awareness among the public about generic medicines through education and publicity so that people take benefit of it.
He said it enables substantial savings in health care, particularly in case of poor patients and those suffering from chronic ailments requiring long periods of drug use.
The week-long Jan Aushadhi Diwas 2023 programs started in Kargil on March 01 and these will conclude on March 07.