Hon'ble Lt Governor Brig (Dr) BD Mishra (Retd) interacts with PRIs representatives from Kargil district
Kargil, March 26, 2023: The Hon'ble Lieutenant Governor of Ladakh, Brigadier (Dr) BD Mishra (Retd) met and interacted with representatives of Panchayati Raj Institutions (PRIs) representatives from various blocks and tehsils of Kargil district, at Raj Niwas in Kargil.
HLG informed that the objective of the interaction is to meet the elected representatives working at the grassroots level and to understand their functioning. He further informed that his main aims are working for the benefit and overall development of the people of Ladakh.
HLG requested the PRIs representatives for their cooperation in the overall development of the region for the benefit of the people of Ladakh.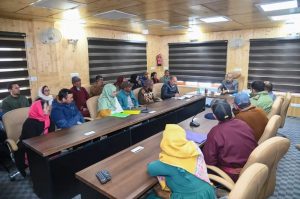 HLG suggested that the plans for the development at the grassroots level should first come from the elected representatives at the panchayat level followed by the PRI representatives at the tehsil level and then from the block-level PRI representatives. He informed that the final plan wouldbe presented and discussed at the Council level. He also informed that the funds allocated by the Centre will then be utilised for top-priority development works at all three tiers of the Panchayati Raj system.
HLG emphasized the importance of Jan-Bhagidhari or people's participation as the biggest factor in the overall success of any development project. He requested the PRIs representatives to maintain and focus on transparency, accountability, probity, equal dispensation, self-audit and mid-course correction while carrying out developmental activities for the welfare and development of the people of Ladakh.
HLG informed about the efforts being made by the Administration to conduct surveys and studies for the establishment and upgradation of schools, police stations, health centers and administrative HQs in consultation with the concerned stakeholders. He also informed about the plan to set up an Immediate Assistance Centre for the quick redressal of all the issues faced by the citizens of Ladakh. He further informed that he will take the necessary steps to address the issue of exorbitant airfares, particularly during the winter.
HLG also informed about the steps being taken to stop the dumping of garbage in nullahs and encroachments on river bodies, making Ladakh a siren-free region without disrupting the flow of traffic. He requested the PRIs representatives to work for the promotion of Pashmina in Ladakh.
Chairpersons of BDCs and sarpanches raised several issues related to their constituencies. HLG promised to look at all these points positively.
Chairpersons of Block Development Councils (BDCs); Panchayat Coordination Committee and Sarpanches; Secretary, Shri Ravinder Kumar; Deputy Commissioner, Kargil, Shri Santosh Sukhadeve; SSP Kargil, Shri Anayat Ali Chowdhary; Director, Rural Development and Panchayati Raj Department, Shri Tahir Hussain; Assistant Commissioner Development, Kargil, and other concerned officers of RDD were also present in the interaction session.