Incharge SDM Sankoo reviews arrangements for Republic Day celebration
Kargil, Jan 21, 2023:
Incharge SDM Sankoo, Sajjad Hussain today chaired a review meeting in his office chamber regarding the arrangements being put in place for the celebration of Republic Day 2023.
All Sub Divisional Officers/Block Officers attended the meeting. During the meeting, the incharge SDM took a review of arrangements to be made for the celebration of Republic Day.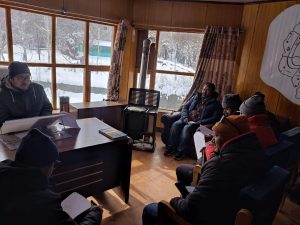 He directed the officers to ensure necessary arrangements for the function well in time so that the function will be celebrated successfully. The officers assured the chair for the timely completion of all the requisite arrangements in due course of time.