Justice U.U.Lalit flags off rally-Ride for Legal Awareness
KARGIL, OCTOBER 15, 2021: Judge Supreme Court of India and Executive Chairman, NALSA, Justice U.U. Lalit today flagged off a rally-Ride for Legal Awareness which was organized by Ladakh Legal Services Authority (LLSA) at Tourist Facilitation Center (TFC) Biamathang.
Justuce U.U.Lalit flagged the rally in presence of Justice D.S Thakur, Executive Chairman, Ladakh Legal Services Authority, Justice Tashi Rabstan, Chairman, High Court Legal Services Committee, Ashok Jain, Member Secretary, NALSA, Puneet Sehgal, Director, NALSA, M.K. Sharma, Member Secretary, LLSA, Officers of the Administration of Ladakh, officers from the Judiciary and participants.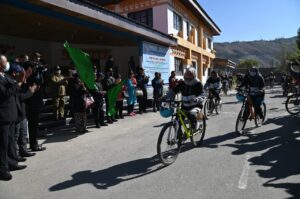 The ride was organized as a part of the Pan India Awareness and Outreach Campaign in connection with the celebration of Azadi Ka Amrit Mahotsav under the supervision of LLSA and under the aegis of NALSA, in collaboration with DLSA Kargil, NGO Sewak Kargil and Ladakh Adventure Sports for legal awareness.
In his words of motivation, Justice U.U. Lalit described the participants of the rally as torchbearers and flag-bearers of the message of NALSA.
He related the occasion with the festival of Dussehra being observed on the same day, as symbolic of crossing the boundaries for achieving something not done before.
While appreciating the zeal and zest shown by the participants, he encouraged bikers and cyclists to try and reach out to maximum people and make them aware of the programmes of NALSA and their right to free legal aid.
M.K. Sharma, Member Secretary, LLSA, in his introductory address welcomed the dignitaries and participants on the occasion and gave a brief account of the rally.
He informed that the rally comprising of 22 bikers led by Advocates Mohd Saleem and Agha will travel across150 kms covering Drass, Batalik, Chiktan and Wakha, and also 20 cyclists led by Asgar Yarkain Advocate who will travel 30 kms from TFC Kargil to Ashina village covering 4/5 villages en route, with a vision to reach out to the tribal villages and population in the interiors of the district in an attempt to reach out to the last person.
During this ride volunteers would distribute the pamphlets containing information about the beneficiaries under Legal Services Authorities Act.
On the occasion, M.K. Sharma described the event as a rare priviledge for the people of Ladakh. He also expressed gratitude to Justice D.S. Thakur and Justice Tashi Rabstan for giving impetus and new direction to legal services in UT Ladakh.
With flagging off of the rally, the bikers and cyclists set out on their goal of spreading legal awareness across the region.