Kargil Premier League 2021 Cricket Tournament concludes, Yarana Indians Baroo emerge champions
LAHDC Kargil committed to give impetus to  sports infrastructure: CEC Feroz Khan
KARGIL, OCTOBER, 17, 2021: Chairman and Chief Executive Councilor,LAHDC, Kargil  Feroz Ahmad Khan attended the concluding ceremony of the Kargil Premier League 2021 Cricket Tournament organised by the Kargil Cricket Association (KCA) at Khree Sultan Cho Sports Stadium Biamathang here today.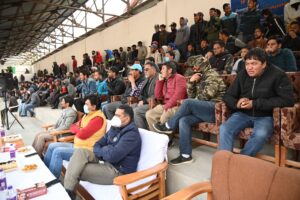 Additional Superintendent of Police (ASP) Kargil Iftikhar Ahmad, DYSSO Kargil  Muhammad Hussain Rehnuma, SHO Manzoor Ahmad, Secretary KCA Feroz Ahmad, members of civil society, players  and sports enthusiasts were present during the ocassion.
During the finals, Yarana Indians Baroo won over New Era Poyen by 8 runs to lift the  trophy.
CEC Feroz Khan in his address congratulated the winner and runners up teams for displaying remarkable sportsman spirit and their splendid performance in the final match and making it memorable and elctrifying. He further congratulated the organizers for holding the mega tournament and carrying it with discipline, adding he said that winning and loosing are part of a game, however maintaining the sporting spirit is the major purpose.
Pertaining to the improvement of infrastructure and other logistics of the stadium, CEC Khan assured that 2 hand pumps will be installed within 15 days and for toilets and dressing rooms for players, provision will be kept in the new pavillion which is undergoing construction.
Khan said that LAHDC Kargil is fully committed to promote sports infrastructure in the district, and in this regard sports ground have been sanctioned at Poyen, Akchamal, Goma Kargil and other areas in the district. He further said that the LAHDC Kargil has provided 400 kanals of land to the Sports Authority of India for establishment of sporting and athletic infrastructure.
Pertinently, 72 team from different parts of the district participated in the tournament.
The winning team was rewarded with a trophy and cash prize of Rs 80,000 while the runners up team was given a trophy and cash crize of Rs 50,000. Ahmad Ali from Yarana Indian Baroo was declared man of the match as well as man of the series for his phenomenal display of cricketing skills throughout the tournament.
Meanwhile, the winner and runners up teams were also felicitated with medals by the digniatries.