Ladakh admin explores use of 3D technology in constructing buildings and repairs of mechanical equipment
Comm/Secy, A.K.Sahu, holds an interactive session with IIT, Guwahati
Leh, December 31: Taking a step towards enhancing the capacity of its executing agencies by using the latest technology, the Ladakh administration is exploring the use of 3D printing technology in the construction of civil structures and repair/maintenance of machines in Ladakh. The Commissioner/Secretary, Public Works Department, Ajeet Kumar Sahu, along with the officials of PWD, Ladakh held an interactive session with the Director and professors from the prestigious Indian Institute of Technology, Guwahati.
The team from IIT headed by Prof. Parmeshwar Iyer, the Director, IIT Guwahati, gave a comprehensive presentation on the achievement made by the institute in the area of newly emerging 3D technology, viz 3D metal machine parts printing and constructing civil structures They demonstrated various kinds of machine parts and special requirements of machine parts, manufactured at their workshop using a robotic arm. The team also demonstrated work on buildings such as toilets and guard rooms constructed with 3D printing technology using a robotic arm.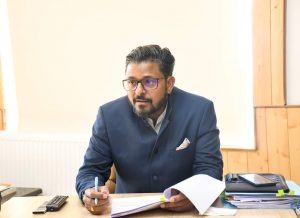 The Commissioner/Secretary said that the UT administration is considering the idea of using robotic arm in the construction of infrastructure, especially in remote areas as the incorporation of robotic technology yields highly accurate results; increases efficiency; enhances safety measures for the workforce; saves time and cuts costs, besides the robotics can be controlled from a safer area thus, eliminating the need to physically access unsafe locations.
The use of 3D technology in construction will be sustainable and help achieve the objective of a carbon-neutral Ladakh. It will also quicken the design process.
The interactive session with IIT Guwahati and PWD was a fruitful interchange of ideas on the newly emerging 3D technology and also familiarised the engineers of Ladakh with this emerging technology.
The interactive session was attended by Prof. Parmeshwar Iyer, the Director, IIT Guwahati; Prof Sajan Kapil and Prof Biranchi Panda of IIT Guwahati; SE, PWD Leh and Kargil among others.