LAHDC Leh hosts luncheon in honor of His Holiness the Dalai Lama
Leh, Aug 23: The Ladakh Autonomous Hill Development Council, Leh hosted a luncheon in honor of His Holiness the 14th Dalai Lama at Sindhu Ghat, Shey today. An interaction session with His Holiness was also conducted which was attended by the Councillors of LAHDC Leh led by the Chairman/CEC, Adv. Tashi Gyalson, MP Ladakh, Jamyang Tsering Namgyal, DC Leh, Shrikant Suse, BDC Chairpersons, and officers of UT and District Administration, Leh.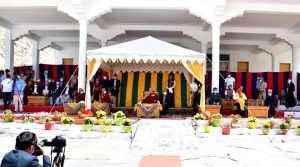 Sharing his piece of advice, His Holiness the 14th Dalai Lama stresses the need for developing a happier society among the seven billion human beings by practicing compassion and maintaining secular ethics. He also spoke on the need of paying attention to the education of the heart, teaching love, compassion, mindfulness, and peace.
The event was also attended by H.E Thiksey Rinpoche, H.E Togdan Rinpoche, Head of Religious Organisations, Former CECs of LAHDC Leh, BJP National Gen. Secretary, Tarun Chugh, Head of Political Parties of BJP, INC & AAP Leh, and Representatives from various organisations including DRDO, AAI, NISR, etc.