NRLM, PMAY, MGNREGA, SBM-G reviewed in Kargil
Commissioner/Secretary Rural Dev. Department Saugat Biswas hold consecutive meetings
Kargil, Dec 09, 2022: Divisional Commissioner and Commissioner/Secretary, Rural Development and Panchayat Raj Department (RD&PRD), UT Ladakh, Saugat Biswas chaired a meeting to assess various development works within centrally sponsored schemes operating under RD&PRD Kargil, at Conference Hall Kargil on December 07.
Deputy Commissioner/CEO, LAHDC, Kargil Santosh Sukhadeve, Director RD&PRD Ladakh, Tahir Hussain Zubdavi, ACD Kargil Ghulam Muhammad, Deputy Secretary RD&PRD Manoj, District Panchayat Officer Padma Angmo, Executive Engineer REW Shabbir Hussain, Concerned BDOs, SHG workers, Panchayat Secretaries besides other concerned officers of RD&PRD were present during the meeting.
The Commissioner/Secretary took a detailed review of various Central sponsored schemes including Pradhan Mantri Awaas Yojana Gramin (PMAY-G), Swachh Bharat Mission Gramin Phase 2, National Rural Livelihood Mission (NRLM), Integrated Watershed Management Project (IWMP) and other schemes. A detailed discussion was held on the above-mentioned schemes.
Under PMAY-G, the Commissioner/Secretary was informed that out of 3136 registered beneficiaries, 372 were sanctioned by the Government of India and all courses of action including house sanctioning, geo-tagging and account verification has been completed.
He was also informed about the block-wise progress during the target financial year. Biswas directed to clear the remaining cases under PMAY-G within the stipulated timeline.
Related to the works under SBM Gramin Phase 2, the Commissioner/Secretary was informed that out of the targeted 2145 assets, 1163 Individual Household Latrines (IHHL) have been completed.
The Commissioner/Secretary ordered for speedy payment under IHHL to which he was informed that payment of 455 units has been completed.
The Secretary was informed about those who haven't registered yet and will apply this year and a committee under the chairmanship of BDOs will be formed to resolve the matter.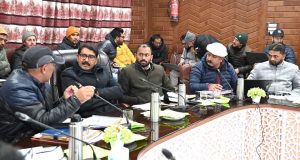 Biswas also took an assessment of solid, liquid and plastic waste management under the scheme and directed for tendering of remaining works at the earliest while keeping a flexible timeline for the applicant contracting agencies.
Commissioner/Secretary also took block-wise achievement of the works under SBM and took an assessment of aspiring models.
With regards to the works of NRLM in Kargil, the Commissioner/Secretary took an assessment of the number of SHGs established, number of Cluster Level Forums (CLF), Village Organizations (VOs), and savings done by the concerned SHGs. He also took a detailed assessment of status of the revolving fund and amount in the current financial year.
Expressing concern over the number of VOs, the Secretary directed to increase the number as per the requirement of SHGs and also directed the BDOs to help strengthen the NRLM.
He also directed the concerned officers to find the gap and make way for creation of CLF and VO and engage active working women to act as mobilizers to strengthen inactive SHGs.
Addressing the SHGs, Biswas instructed to increase their strength in terms of capital as the bank loan interest has been reduced to 7 percent and asked them to work with dedication.
Regarding IWMP, he took a detailed assessment of the major head-wise distribution of the budget and also took details of administrative cost, preparatory phase and work phase.
The Commissioner/Secretary was informed that a baseline survey in 10 villages of various blocks has been completed and DPR is under progress, and a further watershed committee has also been established.
Biswas directed to hold a meeting with other stakeholders in the successful establishment of IWMP in various villages and also directed to complete the report at the earliest.