NYK Kargil organizes program on Intl. Women's Day at Jusgond village 
Kargil, March 08, 2023
Nehru Yuva Kendra Kargil in collaboration with Rural Educational and Developmental Organization Drass today organized a program on the occasion of International Women's Day at Jusgond village.
The program was attended by prominent dignitaries, senior citizens and girls and women of the region.
Shamim Ahmad Sarpanch Chowkiyal was chief guest on the occasion among him guest of honours. Feroz Ahmad, Cherag Senior Teacher Govt Higher Secondary School Drass, Ghulam Mohammad Nigah Headmaster Middle School Jusgond, Raziya Banoo Nigah Teacher KGBV Bhimbat, Fidah Hussain village Numberdar, Mushtaq Ahmad Cherag President REDO and others were present on the occasion.
The program was aimed to make aware the women and their holistic nourishment in the 21st century. The program was attended by around 140 to 150 participants who got enthralled and amused for such first ever program by the organization in the village.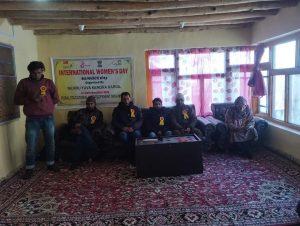 The guests spoke on the occasion addressing the women in local language emphasising the role of a woman as a backbone in society.
The guests cited several examples of flourishing women of the era so that the participants may get inspired by their poignant role by achieving hallmarks in the contemporary era.
The female guests also spoke on the occasion to encourage and inspire the participants for playing their role and to live in the modern era. The guests talked about the importance of the day and explained the importance of woman empowerment to the participants.
Mushtaq Ahmad Cherag President of Rural Educational and Development Organization presented votes of thanks. He expressed gratitude to all the guests and the participants to participate in the program by sparing time from their busy schedule to make the program on the eve of International Women's Day more successful with a positive culmination.