Principal Secy chairs Executive Committee meeting of LPMRU
Leh, Aug 13: The Principal Secretary, Health and Medical Education, UT Ladakh Dr. Pawan Kotwal chaired the Executive Committee meeting of the Ladakh Price Monitoring and Resource Unit Society (LPMRU) at the Civil Secretariat, Leh.
Mohd. Bashir, Incharge Drug Controller, Ladakh, and Member Secretary LPMRU; CMO, Leh, Dr. Nurzin Angmo, and officials of LPMRU were also present.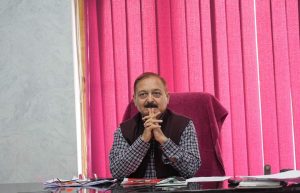 The objective of setting up the Price Monitoring and Resource Unit is to provide necessary technical assistance to the State Drug Controllers and National Pharmaceuticals Pricing Authority (NPPA) besides monitoring notified price of medicines, detecting violations of the provisions of DPCO 2013, and organising seminars, training/workshops at the State and District level.
In the meeting, Member Secretary, LPMRU, Mohd. Bashir gave a comprehensive presentation on the performance of LPMRU till date. He shared that the LPMRU Project team has been appointed and given extensive training on various aspects of PMRU. Further, he apprised that a survey has also been conducted as per NPPA guidelines on Schedule and Non-Schedule formulations. He informed that Awareness/ Training/Workshops with the Chemists of Ladakh with respect to monitoring drug prices, affordability, and accessibility of medicines will be conducted.
The Principal Secretary, Dr. Kotwal, said that the consumers for their own safety and security must be encouraged to always ask for bills while making a purchase from the pharmacy as this will check the sale of fake or duplicate drugs, if any, in the market. Under the Pradhan Mantri Bhartiya Janaushadhi Pariyojana (PMBJP), Dr. Kotwal said that the objective is to make quality generic medicines available at affordable prices to all especially the poor. He emphasised on educating the public against the impression that quality of medicines is synonymous with high price. He asked the LPRMU team to organize seminars, training programs and other information, education and communication activities in the areas of availability and affordability of medicines for all.
Further, Dr. Kotwal stressed on taking steps in engaging entrepreneurs to open PMBJP Kendras in Ladakh. At present there are two PMBJP Kendra in the Union Territory one at the SNM Hospital, Leh and the other at the District Hospital Kargil where people can buy generic medicines at affordable rates.