Quality education in Govt. Schools top priority of LAHDC Kargil: Feroz Khan
Kargil, March 29, 2023: Chairman/Chief Executive Councilor, LAHDC, Kargil Feroz Ahmad Khan today visited Government Higher Secondary School, Choskore and interacted with the staff and students of the institution.
During his visit to Choskore, the CEC said providing quality education at Government School is the top most priority of the present dispensation at LAHDC Kargil.
Khan interacted with the staff and students of the institution and stressed on the need to improve the relation between students and teachers and the environment of education.
He further said that the enrolment needs to be enhanced in the school. The CEC advised the parents to enroll their children in class 11th so that the vacancies will be filled up on contractual basis.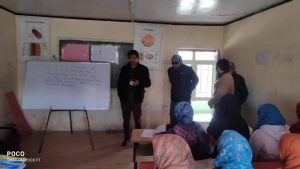 The Headmaster and staff members of the school were also present. The Headmaster requested for providing of separate toilet for girl students, providing of drinking water and construction of footpath which are required urgently.
The CEC advised the Headmaster and staff members to be punctual towards their duties and give special attention to the students for the betterment of their studies.
Later, the CEC interacted with the students and enquired about academic and other facilities available in the school and assured to resolve their genuine demands.