---
*SDM Shakar-Chiktan distributes Youn-Tab Educational Tablets at Govt HSS Shargole*
_Chairman, BDC Shargole, Sarpanch and a large number of parents take part in the event_
*Kargil, 25-09-2021:* Free educational Tablets – YounTab were distributed among 92 students of class 9th, 10th and 11th at the Govt. Hr. Sec. School Shargole here today. This follows the YounTab distribution for students of class 12th which took place at an event at the school recently. SDM Shakar-Chiktan Mohd Sharief was present during the distribution ceremony of the tablets. Chairman BDC Shargole Sh Tsering Murup and Sarpanch Shargole Mr. Mohd Hassan in addition to a large number of parents also took part in the event.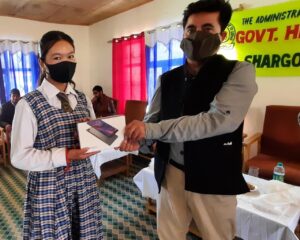 Speaking on the occasion, the School Principal Sh. Ishey Namgial thanked the parents for attending the program. He stressed upon the need for close coordination between the parents and the teachers for the overall and holistic growth of the students. He urged the students to make efficient use of the tablets.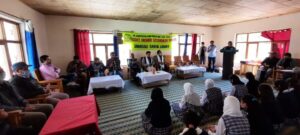 SDM Mohd Sharief speaking on the occasion stressed that the facilities provided by the UT Administration must be adequately utilized. He further appreciated the efforts of the students of the school. He felicitated two students of the school with traditional Khatak for bagging first position in the Inter School Science Model making competition held recently by the DIET Kargil and the Yoga Competition held by the District Administration and the Administration of UT Ladakh. He urged the students to do their best in their growing years so that they could contribute towards society building and nation building as responsible citizens. He also spoke about the importance of conducting regular career counselling for the students.
In his address, Chairman BDC Shargole and Sarpanch urged the students to make proper use of the tablets. He urged the parents to monitor their wards in cooperation with the teachers of the school so that they could provide an environment for holistic growth of the children. He also spoke about various menaces like drug addiction that are making ground in the society gradually and stressed that everyone should be conscious about such issues. He sought the cooperation of the parents, the students and the teachers to nip such menaces in the bud. He thanked the UT Administration and the LAHDC Kargil for ensuring that the tablets reach the students in such crucial times.
Sarpanch Shargole Sh Mohd Hassan lauded the efforts of the school under the able leadership of the Principal Sh Ishey Namgial. He urged parents to ensure that their wards attend the school regularly.
During the event, demonstration about the usage of the tablet was also given by the Nodal Officer, YounTab Educational Tablets Sh Anwar Hussain Lect. Computer Science GHSS Shargole. The event was conducted by Sh Mohd Hussain Akhone Physical Education Master GHSS Shargole. The event finished with the vote of thanks by Sh Tamchos Gurmet Teacher GHSS Shargole.